Welcome to FSPAC! Here you will find a warm community, ready to embrace you in all its activities. For academic guidance and cultural mediation, please meet our international cooperation team: 
Conf. univ. dr. Andreea Mogoș
Dean for International Relations
Prof. univ. dr. Delia Bălaș
Erasmus Departmental Coordinator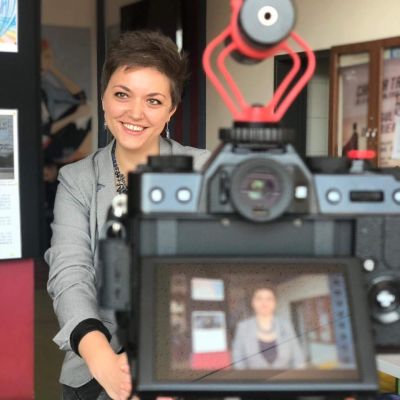 Assoc. lecturer Arina Neagu, PhD
International Relations Officer, student advisor
Exchange students should follow these steps in order to select the courses before coming to FSPAC:
Important deadlines and information
Nomination for the 1st semester
1st of July
Nomination for the 2nd semester
1st of November.
For further details click here
For further details about the nomination process and mandatory documents, please contact our colleague, Ilona Drancă, responsible for incoming ERASMUS+ students @Centre for International Cooperation: ilona.dranca@ubbcluj.ro
If your institution has an agreement of cooperation with FSPAC, you can contact your International Office to inquire on the selection conditions.
Students and Ph.D. candidates of our partner universities are welcome to study at FSPAC within mobility schemes, in the framework of these agreements. Interested students and Ph.D. candidates can check if their home university has signed a general cooperation agreement with FSPAC Cluj-Napoca here: *link*
Ongoing academic calendar
FIRST SEMESTER

29/09/2022 - 30/09/2022

preparation of the academic year

03/10/2022 - 23/12/2022

teaching activities

12 weeks (Wednesday, 30/11/2022, St. Andrew's Day - public holiday and Thursday, 01/12/2022, Great Union Day - public holiday)

26/12/2022 - 08/01/2023

holiday

2 weeks

09/01/2023 - 20/01/2023

teaching activities

2 weeks

23/01/2023 - 12/02/2023

exam session

3 weeks (Tuesday, 24/01/2023, Unification Day - public holiday)

13/02/2023 - 19/02/2023

holiday

1 week

20/02/2023 - 26/02/2023

re-examination session*

1 week
SECOND SEMESTER

27/02/2023 - 14/04/2023

teaching activities

7 weeks (Friday, 14/04/2023, Good Friday - public holiday)

17/04/2023 - 23/04/2023

Easter holiday

1 week

24/04/2023 - 09/06/2023

teaching activities

7 weeks (Monday, 01/05/2023, Labour Day - public holiday, Thursday, 01/06/2023, Children's Day - public holiday and Monday, 05/06/2023 – Pentecost Monday – public holiday)

12/06/2023 - 02/07/2023

exam session

3 weeks

03/07/2023 - 09/07/2023

holiday

1 week

10/07/2023 - 16/07/2023

re-examination session*

1 week

17/07/2023 - 28/07/2023

practical training period

where applicable (2 weeks)

31/07/2023 - 01/10/2023

holiday

9 weeks





Second Semester – Final years
SECOND SEMESTER – Final years

27/02/2023 - 14/04/2023

teaching activities

7 weeks (Friday, 14/04/2023, Good Friday - public holiday)

17/04/2023 - 23/04/2023

Easter holiday

1 week

24/04/2023 - 26/05/2023

teaching activities

5 weeks (Monday, 01/05/2023, Labour Day - public holiday)

29/05/2023 - 11/06/2023

exam session

2 weeks (Thursday, 01/06/2023, Children's Day - public holiday and Monday, 05/06/2023 – Pentecost Monday – public holiday)

12/06/2023 - 18/06/2023

re-examination session

1 week

19/06/2023 - 02/07/2023

preparation for the graduation/master's degree exam

2 weeks

03/07/2023 - 09/07/2023

Graduation/master's degree final exam

1 week
* The re-examination session can be scheduled either in February/July, or in the first week of September.
** According to MECYS no. 3955 of May 9, 2008 (OM no. 440/12.06.2008) regarding the approval of the General Framework for the organization of internships in the bachelor's and master's degree programs (Art. 4, para. 2) – The period of the internship can be integrated both during the academic year and during the academic holidays.
Academic requirements and grading
The ECTS – European Credit Transfer System – was developed by the European Commission to provide common procedures, to guarantee academic recognition of studies abroad. It provides a way of measuring and comparing learning achievements and transferring them from one institution to another.

The ECTS system is based on the principle of mutual trust and confidence between the participating higher education institutions. The agreement between the home and host institutions establishing the programme of study to be taken (Learning Agreement), the use of credit units to indicate the student's workload (ECTS credits) and the use of a Transcript of Records, which shows the student's learning achievements. These achievements are communally understood and easily transferable from one institution to another, set out to reinforce the mutual trust and confidence.

In ECTS translation, 60 credits represent one year of study (in terms of workload); normally, 30 credits are given for 6 months (a semester) and 20 credits for a 3-month term (a trimester). ECTS credits are also allocated to practical placements and to thesis preparation when these activities are part of the regular programme of study (both the home and the host institutions).

ECTS credits are allocated to courses and are awarded to students who successfully complete those courses, by passing the examinations or other assessments. Examination and assessment results are usually expressed in grades.
Course (C) – facultative attendance (but clearly recommended) 
Seminar (S) / workshop – mandatory attendance, cf. each course Syllabus
The Curriculum (Study Plan) for each specialization/course specifies the type of assessment the student will have to comply with, to pass that course and obtain the number of credits allocated to the subject.

The assessment can be done either by means of an examination or other types of assessment procedures (colloquia, mid-term examinations, project papers, etc.), some of which may be graded "passed" or "failed".

During an academic year, for each course you may take the examination twice.

Failure to pass a subject that was included in your learning agreement means that you have to register for that subject and pay a fee, according to the number of credits allocated to that course. That is why you must ensure that you fully understand what is expected of you. There are precise requirements for each subject, and a breach of these rules may lead to penalties (both financial and procedural/administrative)
Romanian academic system and grading used by FSPAC is detailed below:
1 full academic year
60 credits
1 term/trimester
20 credits
Our faculty provides dorm residencies for its students in common campuses – Hașdeu, Complex Economy, Sport XXI @Babeș Park. All are known as being very active campuses, where you will be living with students from other UBB faculties, as well.

P.S. In Hașdeu campus you will find "Piezișă street", keep that in mind 😉
We know that getting used to a new culture, language, environment must be sometimes hard and overwhelming: with the help of our students we came up with FSPAC Buddy! Through FSPAC buddy you will find a friend to introduce you to everything you need regarding the faculty, but also the life in Cluj-Napoca. 
"I think it was nice to experience something new and realise that you can have classes in different ways but still learnt at the same time". Henrik has taken part in the weekly radio show in FSPAC what led him to describe the faculty as "active, integrating and multicultural".
"In FSPAC they kind of forget I'm an Erasmus, which is good since everyone treats me equally". Lisa describes her faculty as one full of activeness but calm at the same time, that provides many opportunities to students. The radio show she takes part in is an example of how she feels encouraged by professors to start new projects and finds it more practical than her home university. She loves its diversity that can be captured in the multicultural parade she participated. "We all coexisted together, no matter where we came from"
Dea found in FSPAC a perfect spot for her as full-time student in the Romanian section. She did find some difficulties during her adaptation, but she stands out the role of professors who always considered the fact that she was not a native speaker. Two years after, Dea concludes she's aware of where she comes from, but that she feels just like a local more here in Cluj.
"I admire teachers and professors very much because they are very well educated, enough to teach students." She was impressed by the high level in FSPAC and by how everyone spoke a perfect english as she assured that in Japan is completely different. Also, professors in FSPAC being in their majority young is, from Yuriko's perspective, positive as they are less biased from past eras and very inclusive with International students. "They don't separate natives from Erasmus".
Academically speaking, Elmira explained how the system was completely different from Kazakhstan and how shocked she was by the fact of the perfect english everyone spoke here. "Even if they had to speak in Romanian they would after translate it so you wouldn't feel apart". She stands out the role of Arina- Erasmus\international relations officer- who she ensures was crucial for her integration in the faculty. Also, the academic events offered by the faculty was something Elmira enjoyed enormously in both, personal and academic meanings.
What Robert enjoys the most about FSPAC is that since free journalism in Romania was released not that long time ago, teachers really do care about building up the next generation of journalists. Also, how professors encouraged them to not just worry about school, but exploring Romania in deepness since this year will never happen again. "FSPAC being involved in all the events gives you some pride of pertaining to a school that's so active. They're really posting for journalism, and I love that".
Cultural and linguistic diversity @fspac
If ever hearing a student or teacher talking about FSPAC, you will notice that he does it with passion, dedication and honesty. Why? Because FSPAC has managed over the years to surround itself with a variety of beautiful people, creating the community, visible today. We have never wondered where our students come from, because we appreciate, sustain and work over diversity of all kinds.
Moreover, we consider it the main reason why we learned as much from our students as they did from us. In addition to the academic side, we constantly grow the cultural and social activities, organizing intercultural exhibitions and gatherings, debates, meetings with communication and mediation specialists, evenings at the theater or opera.